New Career Guidance Seminar Has Been Launched at HSE Graduate School of Business
A series of career guidance seminars for 1st-year students of Bachelor's Management programmes has been launched as a part of the course 'The Profession of a Manager in the Modern World'. The leading professors of HSE Graduate School of Business, members of Academic councils of GSB programmes, and representatives of Russian and international companies participated in them.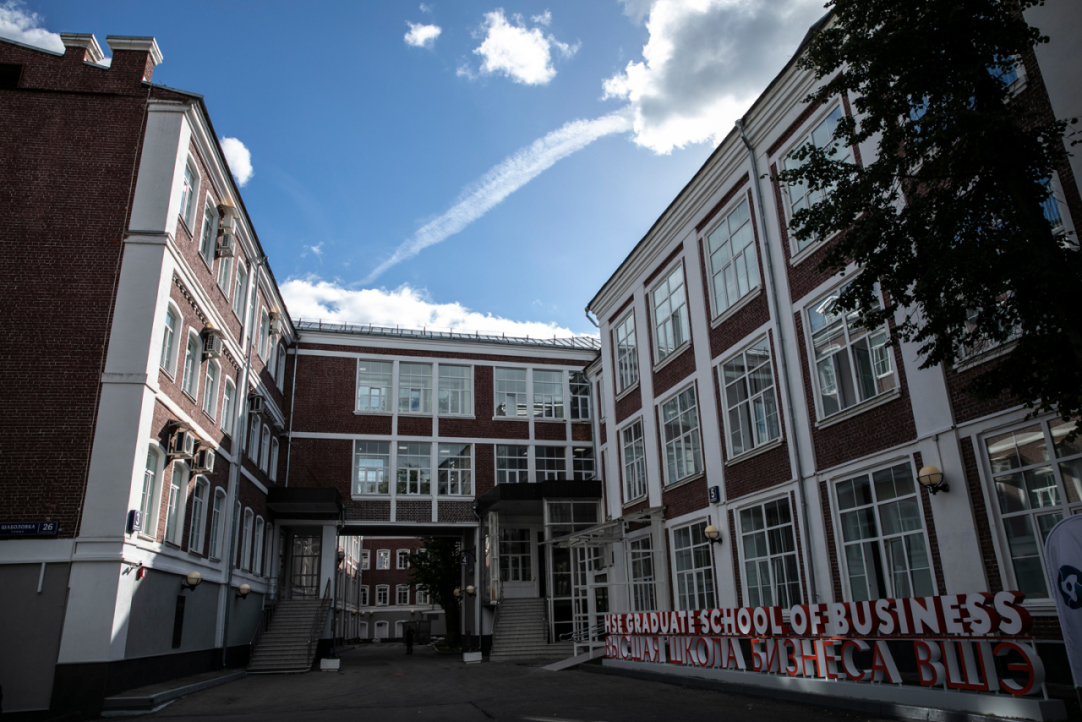 In 2020, Career Guidance Seminars for students of bachelor's programmes 'Business Administration', 'Marketing and Market analytics', 'Logistics and Supply Chain Management' are taught in a completely new format, aimed at building and strengthening the system of corporate relations with leading Russian and international companies, engaging them in the education process, as well as integrating a practice-oriented approach to education from the first weeks of studying.
The new format of the seminar's curriculum includes: studying the basis of management and new managerial competencies requirements in the context of the Fourth Industrial Revolution, practical classes and master-classes held by managers of leading Russian and international companies, initial assessment of students' personality and behavioural type with the DiSC Model that suggests a direction for self-development leading to success in management. The seminar introduces students to their future profession, helps them to determine their career path, and gives them an understanding of what to work on.
The Dean of HSE Graduate School of Business Valery Katkalo designed the curriculum of career guidance seminars specifically for 2020 first-year students.
The Dean of Graduate School of Business opened up the series of seminars with an introductory session. He discussed with students the basic notions of management, historical evolution of management, professional competencies of a manager, correlation of a manager, a leader, and an entrepreneur, and other important issues.
Following guest speakers took part in the seminar:
Alexander Dynin - Deputy Dean of the HSE Graduate School of Business, Professor of Practice at the Department of Strategic and International Management, HSE Graduate School of Business. Alexander has extensive experience in top management in Russian and international companies (PwC, A.T. Kearney, Russian Managers Association). Alexander held a seminar on: 'The Profession of a Manager in the Modern World', giving students an understanding of the basic concepts of management, and talked about the competencies a modern manager needs and the features of the Russian management model.
Sergey Filonovich - Head of the Department of Organizational Behaviour and Human Resource Management at HSE Graduate School of Business, Tenured Professor at HSE.
Professor Filonovich presented the topic 'The Profession of a Manager and Typology of Personalities'. The seminar examined the life cycle of companies and various personality types of managers, the PAEI concept of I. Adizes - four main types of managers (management styles), as well as the principles of building effective, complementary management teams.
Dmitry Bocharov – Candidate of Economic Sciences, Vice President for Internal Control and Audit at Segezha Group, a graduate of HSE Faculty of Business and Management, HSE mentor.
Dmitry gave a guest seminar on the topic: 'The Fourth Industrial Revolution and its Impact on Future Managers'. Dmitry talked about how the trajectory of a manager's career has changed, explained the idea and basic technologies of Industry 4.0, and he also shared Segezha Group's experience of integration of modern digital technologies into the main business processes.
Yulia Aray – Candidate of Economic Sciences, Associate Professor of the Strategic and International Management Department at Saint Petersburg State University Graduate School of Management, a researcher at the CSR Center, expert at the Foundation "Our Future", the Fund "Towards Change", "Business Club CISS SPb", and the Association of Managers (People Investor competition).
Yulia presented a guest seminar on the topic 'Business Transformation under the Influence of Sustainable Development Agenda' and discussed the principles of conscious consumption and responsible investment, the difference between philanthropy, co-integration and co-innovation, as well as the requirements for modern managers, taking into account the sustainable development agenda.
Tatyana Chernisheva - Vice President for Human Resources at MTS.
Tatyana delivered a guest seminar 'Industry 4.0 and Professional Management' and talked about trends that change the habitual work environment: radical innovations, growth via High-Tech, "the battle for people's hearts ", the GIG economy, changes in the professional status of women, fundamental changes in production methods, globalization and generation change, strategic vision, management of organization energy, product, and design thinking.
Denis Reymer – CEO of DTG and vice-president for digital transformation at LANIT Group.
Denis held a guest seminar on the topic: 'New Digital Normal: What Awaits Us around the Corner' and talked about the radical renewal of business models based on digital platforms and new sharing economy, ecosystems, and competition among them, "digital footprint" and "digital mirror", as well as digital competencies that a modern manager needs.
Vladimir Opredelenov - Deputy Director at the Pushkin Museum (Pushkin State Museum of Fine Arts) for Digital Development (CDTO) and Head of Learning Lab of Information Technologies in Culture at HSE Graduate School of Business.
Vladimir discussed with students how digital technologies change the largest museums of Russia and the world, talked about the features of IT and media project management in museums, "digital twins", and the digitalization of cultural heritage.
Sergey Sherbinin – CEO of Sensor Data Mining and resident of the Skolkovo Technopark.
Sergey presented a guest seminar on the topic: ''I' in the Stream of Transformations and Digitalization', discussed the advantages that entrepreneurial companies and IT start-ups have, and talked about how to create a dream team and win hackathons.
Sergey Ivakin – Integrated Communications Director at Sber Russia and a member of the Academic Council of the Marketing and Market Analytics Programme.
Sergey chose the topic 'Current Trends in Professional Management' for his talk. The seminar reviewed The Fourth Industrial Revolution, the transition to big data management, requirements for professional, social and digital competencies of a manager and a marketer in the digital and network global economy, and discussed the recent rebranding of Sber.
Maksim Chernin – a member of the board of directors at Rosgosstrakh, chairman of the board of directors at Doctor Ryadom, executive director at 'Team-Drive', chairman of the academic council of the Business Administration programme.
Maxim gave a guest seminar 'The Life Cycle of Companies and Different Personality Types of Managers', in which he talked about the concept of a life cycle of a company and its main stages. He also revealed the concept of PAEI by I. Adizes. Maksim and the students discussed the four main types of managers outlining the main principles of building effective management teams that Maxim uses in practice.
Ilya Eletckikh – Logistics Director at Coca-Cola HBC Russia and a member of the Academic Council of the Logistics and Supply Chain Management programme.
In his talk, Ilya focused on modern technologies in the field of logistics and retail and paid special attention to technologies that the Russian market already uses.
Lubov Rozhkova - Managing Director for Supply Chain Management Strategy at Accenture.
Lubov gave a talk for students of the Logistics and Supply Chain Management programme on one of the most difficult managerial practices - management consulting and completing of project-type tasks aimed at business efficiency growth.
Mikhail Kazakov – founder and CEO of the international full-cycle digital agency 'Pride.Marketing', a member of the academic council of the Marketing and Market Analytics programme.
Mikhail gave a presentation on the topic 'Current Trends of Professional Management' and talked about the digital transformation of companies, digital natives, the growing role of social responsibility and principles of sustainable development in companies' future.
Mark Sorokin – Director of Analytics at Sberlogistics.
Mark talked about the process of digital transformation in Sber's ecosystem and discussed how a manager's competencies shape in the digital sphere.
The 1st year students highly assessed the seminars held by practitioners and emphasized that they felt comfortable communicating with top-managers:
Yulia Zamanova:
"It is priceless to realize during a seminar that you are truly in the right place and that you made the right choice of the programme. It is great to know that the successful and interesting speakers will very soon become our colleagues."
Alina Akimova:
"It is very valuable to receive not only theoretical but also practical knowledge. This seminar gives a clear understanding of my future occupation and the best ways to build my career."
Ilya Arkhipov:
"The information that speakers presented was clear and comprehensive. I'm sure that these seminars give students a better understanding of logistics and what to do in order to build a successful career."
Nino Gvaramiya:
"I am excited to attend career guidance seminars and listen to guest experts sharing insights into their professions. Each seminar gives lots of interesting and valuable information, which will be very useful in the future."
Alina Kovaleva:
"Because of the seminars, I started seriously planning ways to build my career and grow as a professional: what or whom I would like to manage, where I would like to work. I am starting to think more globally after each speaker's presentation. When you see the guest speakers, – successful representatives of your profession, who have several masters' degrees, studied math, and now create tests that they use during the recruitment process, you understand that you really have to conquer «not the world, but its knowledge.»
In the second module, students will take the DISC test to determine their personality types with an assessment of their strengths and weaknesses in relation to their future profession of a manager, and will get subsequent group feedback with elements of coaching. Such testing will help students to understand their managerial style and correlate its parameters with the behavioural patterns of other people, as well as initiate the formation of the individual trajectory of the student's development as a professional manager.