Meeting of students with Proctor and Gamble representatives
On December 8th, a meeting with Proctor and Gamble representatives was held on faculty of Business and Management. The speakers from the P&G were: Evgeny Yagnyatinsky, the director of the IT-department; Anna Morozova, HR-Manager; Anastasia Rozhdestvenskaya, the analyst.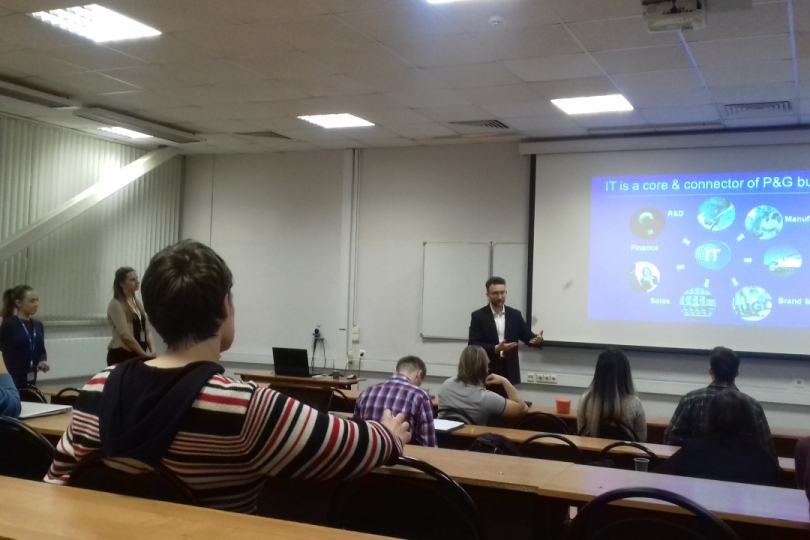 Evgeny Yagnyatinsky shared his experience of work at Proctor and Gamble. He also briefly told about the beginning of his career, his education and other steps such as an internship programs  that he took in order to be where he is now. After that he covered the topic of current trends in IT-industry and the necessity of thorough study/investigation of clients and their needs via different channels. Then Evgeny explained how VR technology can boost the sales and why is IoT (Internet of Things) is so important for Logistics. This statement was backed by the success at the AliExpress which was achieved by the P&G in one day. Lastly, he said that the future of IT are algorithms that deal with media channels  and therefore companies need specialists that know how to work with these systems.
Anastasia Rozhdestvenskaya told her story of employment at Proctor and Gamble. It started from the  IT Business Challenge (https://hh.ru/vacancy/18734812), which she successfully completed and after that received an opportunity to take part in an internship at P&G, after which she became an analyst at this company. She also mentioned that cases from the IT Business Challenge are extremely helpful in the meaning that they give you a sense of how it is to work in big companies such as the one that she works in now.
Anna Morozova gave a speech on the employment terms and conditions at P&G, including salary, application tests for candidates and the working climate in particular.
The guests also answered questions about data collection and analysis systems that are being used at P&G including the work of analysts and the result it gives. Finally, they told about the interaction with their rivals: who are they competing with and which IT-solutions they borrow.