GSB celebrates the 2022 First-Year Student's Day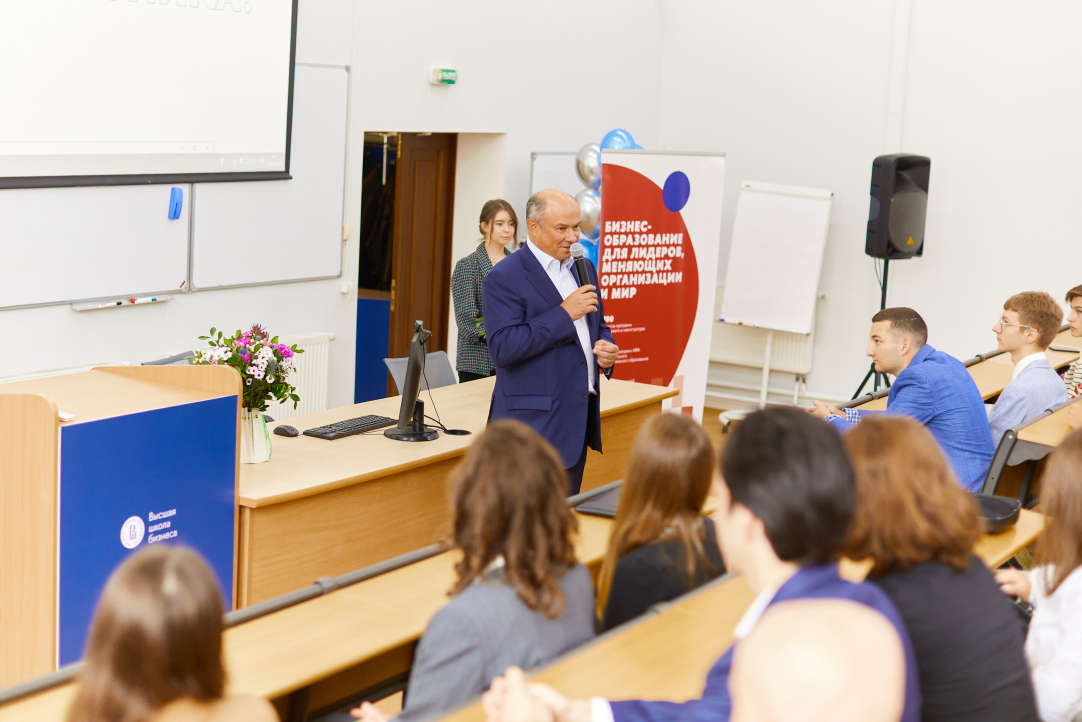 The first day of September became a very important event for more than 1800 young students who are starting their education at the Graduate School of Business. A large-scale programme was arranged at the GSB campus, which included meetings with the school's management, faculty members, the academic councils, the office of educational programmes, and honorary alumni, as well as with senior executives from corporate business partners of GSB. In total, around 3000 scholars visited the campus including newbies from twenty Bachelor and Master programmes and the more senior Year 2-4 students.
The programme of the day focused on the school's practical approach and its joint activities with the business community, and included 46 speakers representing GSB's corporate partners.
Business Administration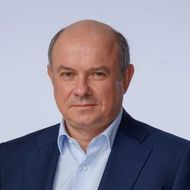 Opening a sub-event for the Business Administration Bachelor programme, which this year attracted 400 neophytes, the First Vice Rector of HSE University and the Dean of GSB Valery Katkalo said: "You have chosen undoubtedly the best programme in management in our country, according to all university standards. It is the only such programme in Russia with the fullest accreditation from the European Foundation for Management Development. And it will certainly bring additional prestige and value to your future diplomas".
Valery also noted that the school allows students to continue their learning process even off campus "We understand how valuable your development is and what kind of opportunities our university can provide when you don't have classes. So I hope you will find development not only in classrooms or during project work. When you graduate, not only will you be more mature but you will be armed with a very powerful asset that a good business school always creates for its students – and I mean networking. You will become a close group of like-minded people with a strong ambition to become and remain successful forever".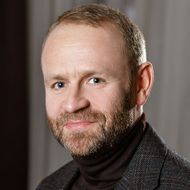 The first-years were also greeted by Sergey Yanchukov, the founder and owner of Mangazeya Group: 'I guess I can compare the Graduate School of Business with Harvard. Most employers, myself included, strongly believe it is indeed the best place. We are always happy to offer employment to successful graduates of GSB and are very interested in long-term relations'. Sergey also noted three key distinctive advantages of the school. 'What I find really valuable about GSB is firstly that you are going to be given very relevant tools for real use. And it's not just bare theory but specific cases from real companies, so you will sure find it useful in your professional life. Secondly, you will learn here to think systemically, that is you will be able to create one picture from isolated fragments. Finally, you will have all the benefits of networking, for personal ties and relations are what's most important in any business', he added.
International Business

Valery Katkalo then attended an opening ceremony for the Bachelor programme in International Business, where he stressed the importance of fluency in English: "Anyone looking for a successful career in international business has to be proficient in English".
HR: Digital Technologies and Organisational Development

Valery also joined the launch of the new Master programme dubbed HR: Digital Technologies and Organisational Development, which is implemented in partnership with a number of major Russian corporations. The participants of the meeting with Year 1 students included Ilya Dementyev, the chair of the programme's academic council and the Rector of the Corporate University of Gazpromneft; Andrey Mityukov, the CEO of Talent Tech; Yekaterina Barabanova, Director for HR Development at Rostelecom; Marina Lvova, Director for Organisational Development at HeadHunter; and Maria Lunegova, Director for Internal Communications and Employer Brand from Segezha Group.
The academic supervisor of the programme Olga Zelenova reminded that admissions will remain open through 20 September.
Business Informatics
Separately at the campus, participants of the Bachelor programme in Business Informatics met with their academic supervisor Evgeny Zaramenskikh, who talked about how the programme adapts to current market conditions. "Over these 20 years since the launch of the programme we have trained a great deal of specialists who went on to assume high positions in the private sector. And they advise the school on how we could improve this programme to make sure you have the best education to become the most suitable candidates for subsequent employment", he said.
Evgeny's address was followed by a speech from Yury Kupriyanov, a GSB alumnus who was among the first-cohort students of Business Informatics. Yury is currently a lecturer at the Faculty of Information Systems and Technologies and a member of the programme's academic council. With the audience he spoke about the importance of having a professional CV and proper education for good employment: "You start filling your CV here, and you already have an important advantage when you are able to list the Graduate School of Business as your alma mater. It is a good reason for head hunters to at least give your résumé a closer look".
Maria Averina, head of the department of integration services and complex solutions at Navicon, then shared some advice she received at work from her numerous colleagues who used to study at GSB. She added that Navicon always treats graduates of the school dearly: "GSB always means excellence. We love your graduates a lot, and more than 50% of our young employees are actually alumni of GSB".
Electronic Business and Digital Innovations
Speakers for the Electronic Business and Digital Innovations Master programme included private sector representatives: Nikolay Kozak, Development Director at DOM.RF; Kirill Knyazev, a product development leader from Balance-Platform; Alexander Petrov, a senior account manager at CPaExchange and the chair of the programme's academic council. In his speech, Nikolay Kozak talked about specifics of digitisation in the construction and industrial sectors, and listed the key competences required for digital innovations.
Electronic Business and Digital Innovations
Valery Katkalo also congratulated the students of the Master programme in Management in Retail. He noted HSE University will celebrate its 30th anniversary in November. He also praised the university's successful development, which became possible thanks to teams of competent researchers and professors who chose this place because it offered the best opportunities for professional and personal growth, and that also applies to GSB, which was founded using the same principles.
The chair of the academic council for the programme and Director for Executive Recruiting and Development at X5 Group Anastasia Mikhalina thanked GSB for the opportunity to cooperate in this educational programme. "We very much value our partnership with the best university in Russia, and I don't think we would have agreed to run such programme with anyone else, because with GSB we can be sure that we are going to get the quality of education and academic support that we need", she said.
Also speaking to the students was Alexander Lebedev, the academic supervisor of the programme, who noted the importance of combing classroom and practical training: "We strongly believe that a successful business cannot be created without a theoretical backbone, but even a pure theory can be misled from what's really important".
Sustainability Management
For the first time this year, GSB launched a new Master programme – Sustainability Management. The launch followed extensive preparations, explained Tatyana Zavyalova, Sberbank's Senior Vice President for ESG and the chair of the programme's academic council. "If the Graduate School of Business creates something, especially something this important, it really has no choice but to become a benchmark at least on the national scale and even beyond, as ratings and the school's achievements in other areas indicate", she said. "And of course, it is a great pleasure and honour to be part of the programme since its very first days and to contribute to what we're seeing now".
Among the speakers for the programme was Irina Arkhipova, the academic supervisor of Sustainability Management, who answered numerous questions from the audience.
Partners Fair
Following the rounds of opening ceremonies, students had time to make new friends, learn more about life in the business school, have informal discussions with lectures, senior students and representatives of GSB's corporate partners, or simply relax and enjoy the day.
Throughout the event, the co-working areas of the school hosted a fair for GSB's partners, which this years gathered 20 companies including VK Group, Sber, DOM.RF, Alfabank, MTS, Rosselkhozbank, Mangazeya Group, Beeline, Changellenge, GlowByte Consulting, FM Logistic, Croc, Nikoliers, Navicon, Ecopsy, B1, Norbit, Tekhnologii Doveriya, Splat, and Kept. Their representatives told the students about their companies and internship opportunities, and also hosted master classes, lotteries and quizzes. For instance, Kept ran a financial quiz and offered a range of prizes for the winners like career consultations, editing of CVs and sessions with a career coach.
In parallel, a dance master class was arranged in the inner campus by the I am Fitness health studio, which attracted several dozens of young people who also took a chance to win a studio membership.
HSE Business Club hosted its own quiz, with the winners receiving VIP tickets to the club's forum. StudTeam arranged an intellectual tour quest around the campus, while members of the Soft Skills Lab, an in-house club of HSE University, invited the first-years to practice their communication skills.
A lot of participants, including senior students, also took part in the Letter to the Future exercise: students wrote letters to themselves which would be given back to them by the school staff on their graduation day.
Every visitor came home with a merchandise kit from GSB, which included branded shoppers and disposable water bottles.