Dan Medovnikov Moderated the Session "Tech Entrepreneurship and Commercialisation of Intellectual Property" at SPIEF-2021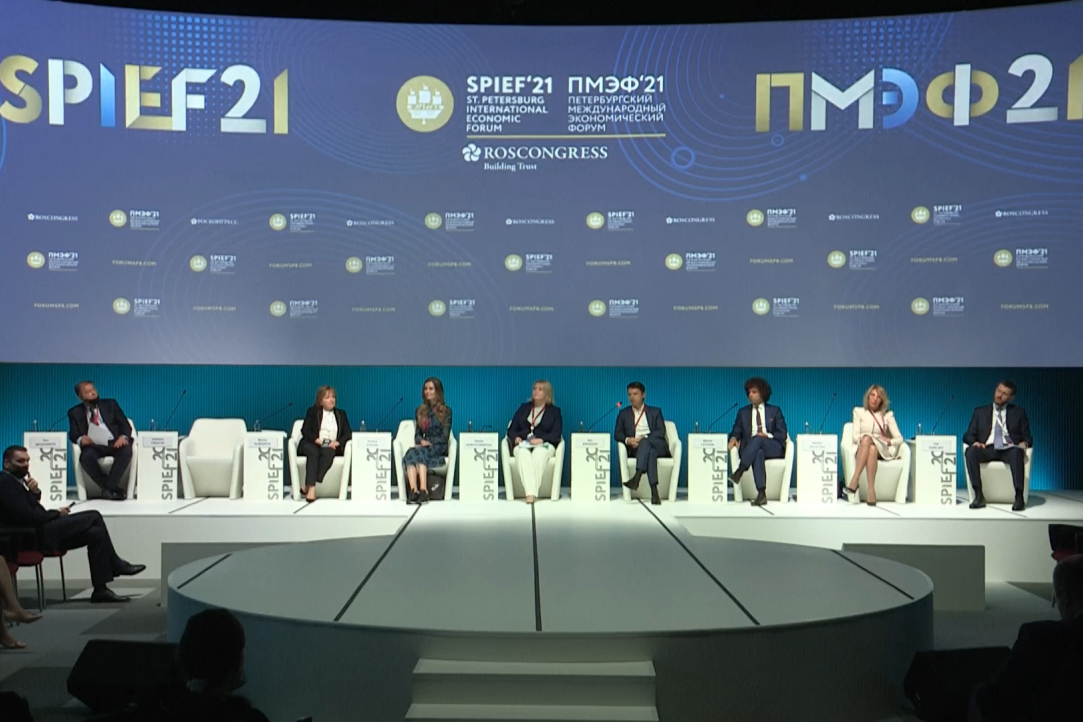 In the framework of SPIEF-2021, a session on "Tech Entrepreneurship and Commercialization of Intellectual Property" was held, organized by Innopraktika and Russian Small and Medium Business Corporation. The event was moderated by Dan Medovnikov, Director of the Institute of Innovation Management of HSE Graduate School of Business and Head of the Expert Council of the National Champions Association.
According to the World Bank, rapidly growing SMEs are an important part of post-coronavirus economic recovery. This business segment's active use of tech innovations allows them to sustain rapid earnings over a significant period of time. These rapidly growing tech companies significantly increase tax revenue and non-energy non-commodity exports. Additionally, they create new jobs for highly skilled employees, thereby counteracting the brain drain. What's more, the majority of rapidly growing tech companies fly under the radar – though they are often leaders in their narrow, specialized niches – essentially serving as hidden champions. The creation of small innovative companies by educational and scientific organizations in the government sector. What is the sustainable growth secret of leading tech companies? How can rapidly growing tech companies adapt to global and local socio-economic challenges? Overcoming barriers and reducing risks related to the development of tech entrepreneurship and the commercialization of intellectual property. What is the fastest way to go from a tech startup to an exporting corporation? What are the most in-demand support instruments for rapidly growing tech businesses? Investment in intangible assets and intangible investments. International tech entrepreneurship.
Moderator
Dan Medovnikov, Editor-in-Chief, Stimul Magazine; Director, Institute of Innovation Management, Higher School of Economics National Research University
Panellists
Igor Drozdov, Chairman of the Board, Skolkovo Foundation
Petr Zaselsky, First Deputy Chairman of the Management Board, SME Bank
Natalya Zolotykh, Vice-President, All-Russian Non-Governmental Organization of Small and Medium-Sized Businesses OPORA RUSSIA
Natalia Korotchenkova, Deputy General Director, Russian Small and Medium Business Corporation
Mikhail Levchuk, Managing Director, Argus Security
Natalya Popova, First Deputy General Director, Innopraktika
Marina Romanova, Chief Managing Director for SMEs and Procurements, VEB.RF
Vladislav Fedulov, Deputy Minister of Economic Development of the Russian Federation
Front row participants
Sergei Borisov, President, School of Technological Entrepreneurship
Yuri Zubov, Deputy Head, Federal Service for Intellectual Property (Rospatent) (online)
Larisa Katysheva, Director of the Center for Contemporary Communications, Graduate School of Public Management (GSPM) of the Russian Presidential Academy of National Economy and Public Administration (RANEPA)
Maxim Kostarev, President, Tomsk Chamber of Commerce and Industry
Dmitry Morozov, General Director, BIOCAD
Igor Runets, General Director, Bitriver Rus
Hermann Simon, Founder, Simon-Kucher & Partners (online)
Henk Jan Hoogendoorn, Managing Director of Financial Sector Office, Qatar Financial Centre
Aleksei Iuzhakov, Chairman of the Board of Directors, Promobot