GSB Webinar "Inside the Wise Leader's Brain: the Neuroscience of Leadership", 27 October 2020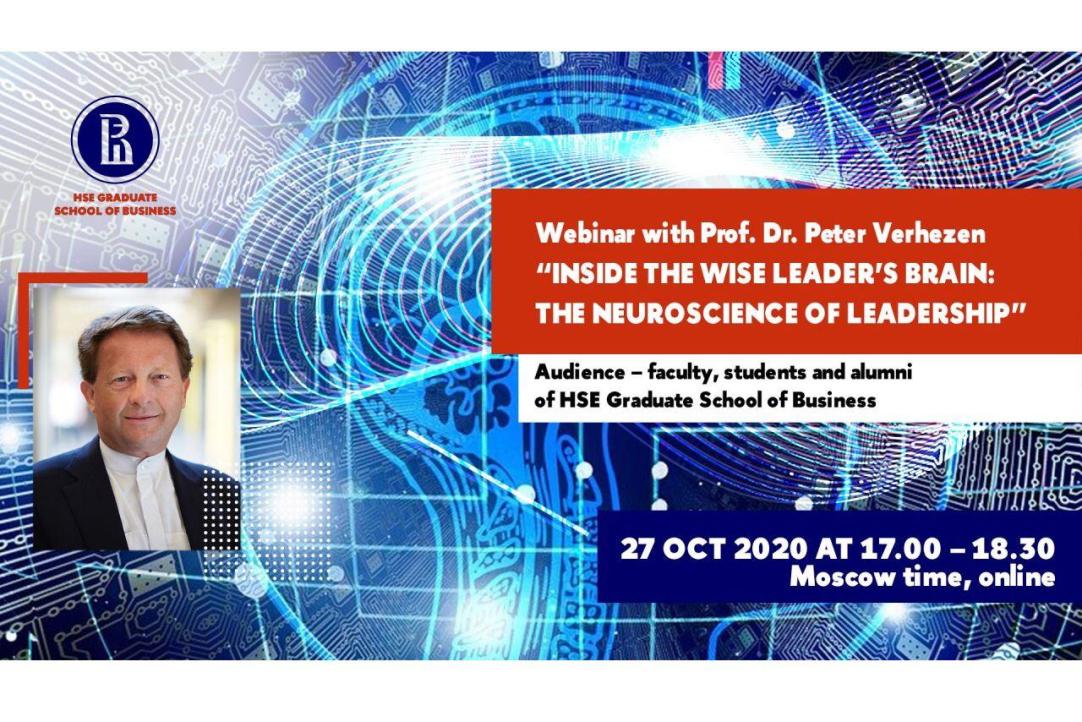 On October 27 from 17.00 to 18.30 (Moscow time), Peter Verhezen will give a webinar at GSB on the Neuroscience of Leadership. To join the webinar register here.
Webinar Highlights
In this talkPeter Verhezen will present a business perspective on how a leader's decision can improve the performance of an organization over a sustained period. This will likely require a more holistic and inclusive strategic view that creates value for both shareholders as well as customers, employees and the community at large. As a professional in corporate governance and risk management, he will indicate how "wiser" decision making could improve the organizational performance (that implies non financials such as ESG as well as a fair return on investment). Prof. Dr. Peter Verhezen will discuss his latest research findings in the neuroscience of leadership, and how in turbulant and uncertain times, human intelligence and creativity (which logically should result in "wiser decisions") is still superior to machine learning (artificial intelligence).
About the Speaker
Peter Verhezen is a Visiting Professor for Global Strategy and Emerging Markets; Managing Paradoxes; Governance, Entrepreneurship & Sustainability at the University of Antwerp & Antwerp Management School (Belgium) since 2013. He is also the Principal of Verhezen & Associates Ltd, a consultancy firm that specializes in Coaching & Advising Top Management and their Boards on Risk Management and Digital Strategy, Corporate Governance, and Sustainability. In addition, Peter collaborates with International Finance Corporation (IFC) – World Bank Group as a Senior Advisor addressing Corporate Governance issues in the Asia Pacific region, including to prepare and adapt the firm's charters, describing fiduciary duties of the non-executive and executive directors, the board's responsibilities and functioning, the shareholder rights and obligations, as well as its procedures and processes.
Peter Verhezen regularly speaks about Digitization, Artificial Intelligence, Corporate Governance and Responsible Leadership, and published in international academic journals like Journal of Business Ethics, Public Integrity among others. He is also the author of "Gifts, Corruption and Philanthropy. The Ambiguity of Gift Practices in Business." (2009). He also co-authored "Is Corporate Governance Relevant in Indonesia?" (2012). "The Vulnerability of Corporate Reputation. Leadership for Sustainable Long Term Value" was published by Palgrave in London (2015). His most recent co-authored book "Doing business in ASEAN markets: Leadership challenges and governance solutions across borders" has been published by Palgrave MacMillan (2016). He is preparing a book on "Wising up in an era of Artificial Intelligence".
The webinar will be moderated by Dr. Ekaterina Ivanova, Associate Professor, Department of Strategic and International Management, HSE Graduate School of Business.
Should you have any questions, please, feel free to get in touch with Natalia Kitaygorodskaya via nkitaygorodskaya@hse.ru.
Looking forward to meeting you soon online!