Studying International Human Resource Management with Dr. Virpi Outila, visiting professor from the University of Leeds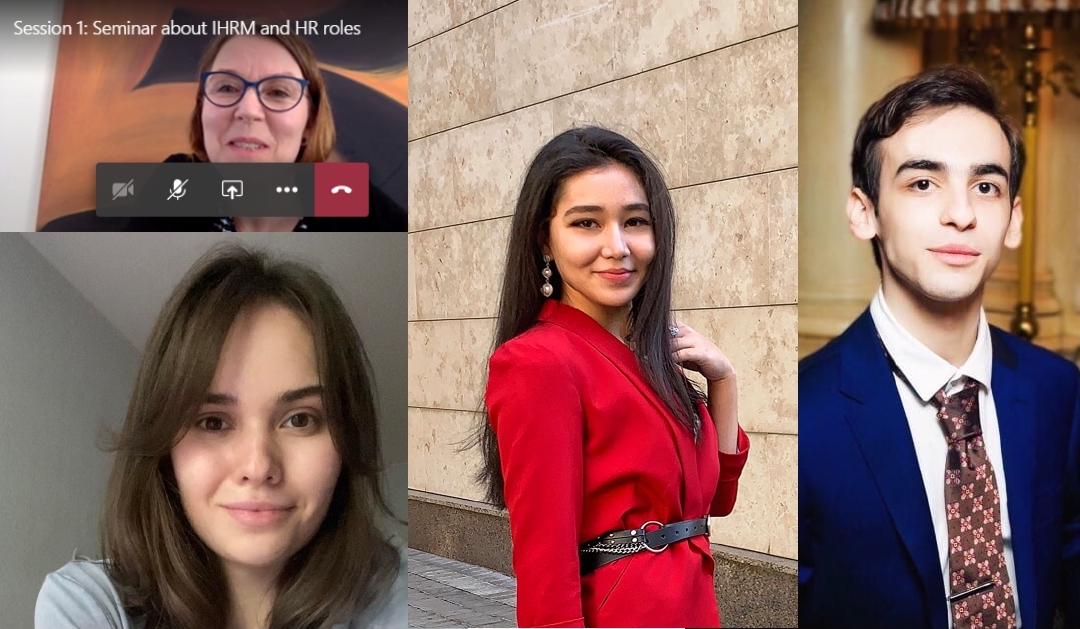 Since mid-April, students of the bachelor's programme in Business Administration at the Faculty of Business and Management participated in a distance course 'International Human Resource Management' taught by Dr. Virpi Outila of the University of Leeds.
Dr. Virpi Outila teaches disciplines related to international business at Leeds University Business School, and before that, she taught at Aalto University (Finland), worked as HR Director at the international company YIT Group (Helsinki, Finland), and held positions, related to consulting in the field of human resources management.
Research interests of Dr. Outila are related to human resource management, organizational behaviour, leadership, talent management, intercultural research, developing economy, relations between the parent organization and subsidiary companies. Her researches has been published in leading journals of management and international business, such as the Journal of World Business and Management and Organization Review.
Initially, classes were to be delivered on the Moscow Faculty campus, and Dr. Outila was supposed to come to Moscow, but the current world situation made serious adjustments to this plan, and the classes were held online.
"This course has allowed students to expand horizons and look at HR issues from an international point of view," Professor Veronika Kabalina commented.
Here's what students say about classes with Dr. Outila. Rukhadze Alexander, 3rd-year student: "We already had Human Resource Management in our second year, so I was a little surprised when I found this course in the training program again. However, the class exceeded my expectations.
The content of the International Human Resource Management was different from what we went through earlier, and this allowed us to look at the HR sphere from a different angle. In lectures, we examined various topics from the strategic role of HR in the internationalization of the company to cross-cultural management; at the seminars, we used the knowledge gained working in mini-groups on practical cases. We also were offered a new learning format in the form of writing reflections on the material we read based on our own experience. Such an integrated approach allowed us to analyze and reflect more than just memorize the material, as, unfortunately, often happens in other disciplines.
I am grateful to Dr. Virpi Outila. In 3 years of studying at the HSE, this was the first experience with an international professor, and I must say that, in my opinion, everything went well. Dr. Outila is a highly professional and competent teacher who collected various materials for us and offered interesting assignments for each lesson, she was also very reverent and attentive to establishing communications with students, she was always in touch with us and was ready to answer any questions.
Even if not many students decide to continue their career in HR in the future, I'm sure this course has become an interesting experience for most of us and will allow us to apply HR skills when we have the opportunity to work in international teams and foreign companies."
"For me, the course was very useful because it gave us an idea not only about personnel management practices but also about the features of work in an international company as a whole. We discussed such interesting topics as the impact of culture on the management style, expatriation of employees, approaches to talent management, and much more.
Dr. Virpi Outila is great not only as a professor but also as a person with extensive experience in the corporate world. And although the transition to distance teaching was especially difficult for many professors in terms of organizing seminars, Professor Outila managed to conduct the entire course at the highest level.
I would like to note the effectiveness of writing reflections, which is common in the West. This method makes you think and put your thoughts on the material you read into words, which develops critical thinking and allows you to remember the topic.
Upon completion of the course, I began to understand the features of management in multinational companies more clearly, gained knowledge about practices of international corporations in the field of expatriation and talent management, and realized the importance of the impact of culture on many business processes," student of the BMB177 group Kholova Anahita said.
Student of the BMB176 group Alina Volkova shared her impressions: "The IHRM course surprised me. It seemed to me that Dr. Virpi's approach is different from that of Russian professors. At the beginning of the course, it was quite difficult. The requirements were high. However, Dr. Virpi always supported and motivated us. I can confidently say that by the end of the course we had improved skills and gained useful knowledge. The course was filled with special tasks. For instance, we wrote reflection papers. It was a new experience. It was great that on the course you could express your own opinion, talk about experience, and share impressions. We learned to work both in a group and individually. This is the first teacher in all of our education process who has given detailed individual feedback. Dr. Virpi is a very nice person. The learning process with Virpi Outila is a unique experience!"
Faculty students can find out about international opportunities including study exchange programs at leading world partner universities on the page of the Center for International Exchanges.