HSE Staff Members Took Part in BRICS University Presidents Forum
On October 17-18 the delegation from HSE took part in the BRICS University Presidents Forum held in Beijing. The event was organized by the Beijing Normal University and the Beijing Educational Committee.
Representatives from over 50 universities of the world took part in the forum. Russia was represented by a delegation from several leading universities, including HSE, MGIMO, Moscow State University, Plekhanov Russian University of Economics, Ural Federal University, Kazan University and others.
The following HSE representatives took part in the event: Sergei Erofeev, HSE Vice Rector for International Relations, Nikolay Filinov, Dean of the Faculty of Business and Management, Marina Batalina, Head of the Office for International Cooperation, Aleksey Maslov, Head of the School of Asian Studies and Viacheslav Ivanov, Chief Expert of the Centre for Studies of Civil Society and Non-Profit Sector.
During the forum, many plenary sessions and panel discussions were held. The participants discussed the transformation of higher education in BRICS countries, economic development, the organization of volunteering, social innovations, sustainable development and the concept of environmental civilization. Sergei Erofeev, Marina Batalina and Alexey Maslov participated in the round table for university administration in BRICS countries, which was dedicated to the issues of inter-university cooperation in the context of globalization and the prospects for the creation of a BRICS university league. Viacheslav Ivanov moderated the session on volunteering.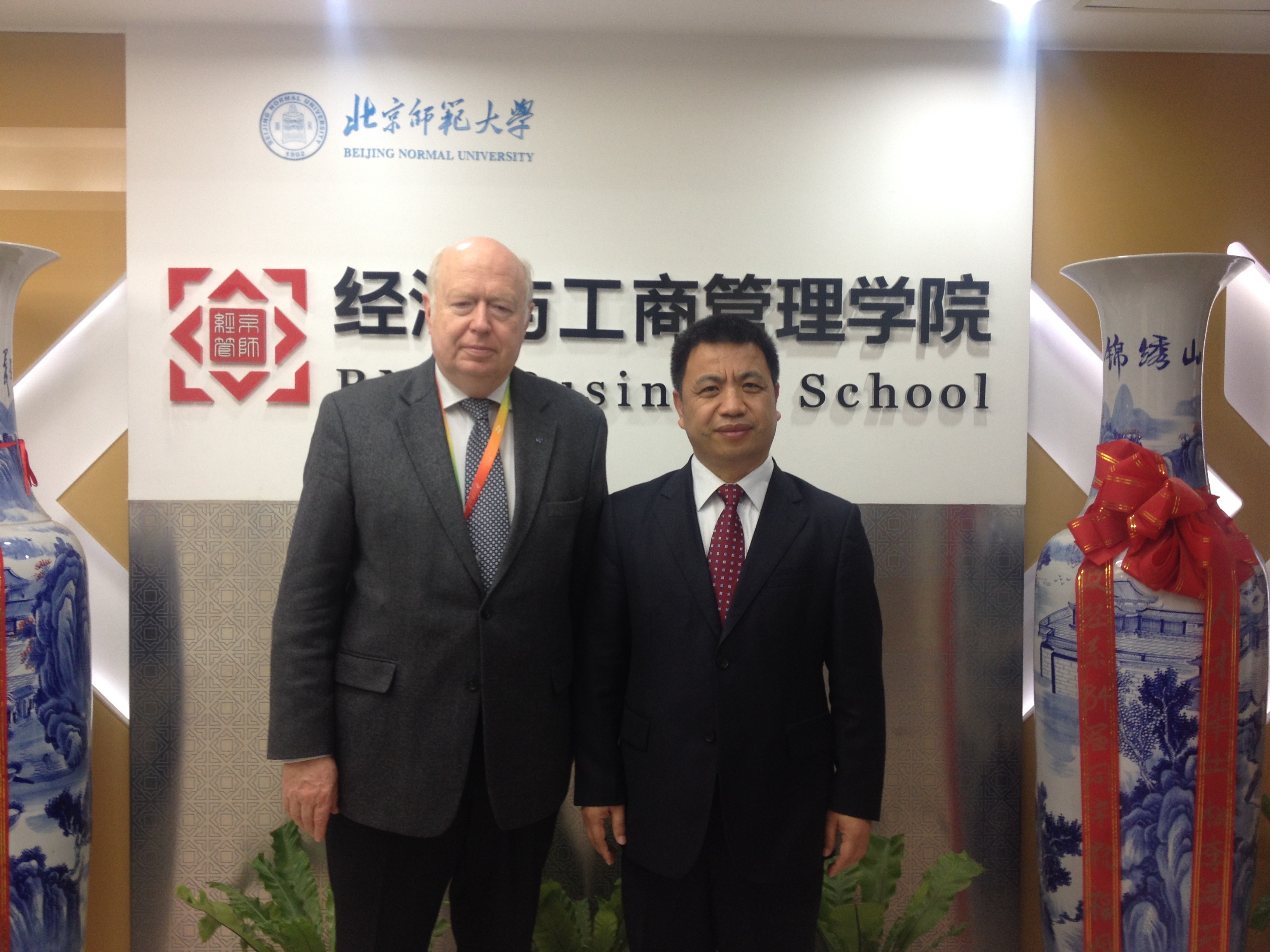 Nikolay Filinov (Dean of HSE Faculty of Business and Management) and Lai Desheng (Dean of the School of Economics and Business Administration at Beijing Normal University)
Nikolay Filinov presented the report 'Development of Business and Management Education in Russia: Imitation and Innovation' and moderated the panel session dedicated to economic development. He was also awarded the certificate of guest professor of the School of Economics and Business  Administration at Beijing Normal University.
At the end of the event the 'Beijing Consensus' was adopted. The document provides the extension of cooperation within BRICS and support of the idea to found BRICS universities league as a platform for scientific and educational inter-university cooperation.