The Faculty of Business and Management opens a brand-new video recording studio for online courses and webinars.
On January 16, 2020, a new video recording studio with the most modern equipment was opened at the Faculty of Business and Management. Now, any professor or course author can record an educational video or broadcast a webinar there.
The studio operates on the basis of Jalinga technology, developed by Russian experts for online learning. Lighting, filming and sound equipment used to create educational media content and video broadcasts meet advanced technical standards. 
With the creation of the studio, the process of recording online video courses and holding webinars has become much easier. The presenter is able to not only display and interact with animated 2D and 3D objects while recording, but also work with the presentation and manage the content by using an interactive transparent board. 
Professors and course authors will be able to record videos themselves, without a film crew. Additional editing is not needed either -- the video will be ready immediately after recording.
The production of high-quality media content will provide ensure further promotion and support for the educational programs, video materials will become more attractive to students and applicants, the accessibility of interactive learning will increase, bringing up new opportunities for the development of open and specialized online courses.
Innovative approaches and digital tools are essential for modern education. The studio opens opportunities that will lead business education and additional vocational education at HSE to a new technological level.

Dmitry Leonidovich Volkov
Deputy First Vice Rector, HSE
Deputy First Vice Rector, HSE
The video and webinar studio is an integral part of the MediaComplex project, which will be completed at the Faculty of Business and Management by the end of 2020. The main objective of the project is to integrate new methods for the development of educational content, as well as to increase the level of digitalization of the academic learning environment.

Kirill Konstantinovich Stetsenko
Project Manager, HSE
Kirill Konstantinovich Stetsenko
Project Manager, HSE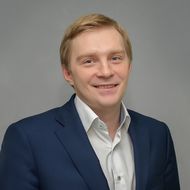 Kirill Stetsenko