Interview with Elena Yakovleva, a graduate of the Faculty of Business and Management
Elena Yakovleva was graduated from the Faculty of Business and Management in 2001, she worked at the Institute of Corporate Entrepreneurship of the Higher School of Economics. Elena also worked in consulting, made a career in a company with state participation. Now she works as the head of the educational program for successors at the Moscow School of Management 'SKOLKOVO'. Since 2010 besides the main work Elena is engaged in projects in order to draw attention to the classical guitar.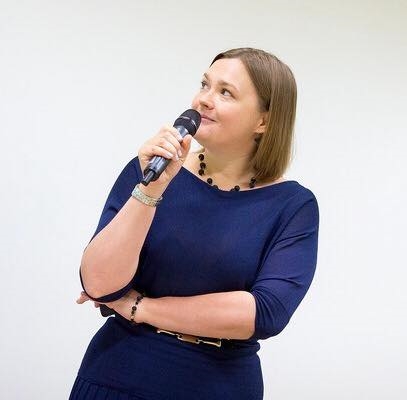 How did you enter HSE? Tell something about your being a student.
After studying at the school attached to the university, I successfully passed the preliminary exams in May and entered it in 1996.
I think my group at the Faculty of Business and Management is a huge gift! We have been taught by luminaries: Vyacheslav Leonidovich Glazychev, Gleb Olegovich Pavlovsky, Pyotr Georgievich Dorovitsky.
My groupmates and I were involved in various student activities, which did not exist before, for example, student council, extreme sports club, KVN, disco. In general, I would say that all these 5 years were a very large charge of humanity, emotions, social connections, attitudes towards life.
Did you work during the studying?
I tried to do some different things that were interesting to me. On the 4th or 5th year of studying I got a job at the Institute of Corporate Entrepreneurship and for a long time I was working there and then at the Center of Corporate Entrepreneurship. I started working as a secretary, and then I created a website, developed an emission procedure. It was interesting, it made me develop.
After getting a specialist's degree, you continued your studies at Kingston Business School. Could you tell us about it in more detail?
I did not enter the Master's program at HSE. I graduated from the specialist programme, it took me 5 years and two diplomas. That is, I have a diploma after the fourth year, and one more diploma after the fifth.
How did it happen?
I had been deciding for too long whether I want to go to the magistracy or not. The head of the academic office was tired of waiting and told me to decide later, but to pass the diploma immediately. Therefore, it just so happened that I have two final qualification papers, and two diplomas, but I studied for 5 years.
After working at the Center of Corporate Entrepreneurship, I was invited to work at RusHydro. At first I made separate projects in the department of personnel management, and then, as I returned from the decree, I created and headed the working with top managers department. It was a huge managerial experience: when the management team was changing, it was necessary to collect functions and processes under one control and make them reach a good quality level. After doing this project for a year and a half I quitted by choice, because it seemed to me that very intensive work activity needs some kind of reflection.
My further studies started unexpectedly: a friend of mine sent me an advertising of a program; I applied for it, was interviewed in Russian and English, and entered. It was a two-year program 'Master of Science in International Human Recourse Management' (IHRM Masters) by Kingston Business School and the Russian Academy of Science and Technology, and it also provided British qualifications in the field of personnel management CIPD.
During this period you started guitar projects, did not you?
Yes. A guitar book which had been made during working in RusHydro and being in a decree was published. The decree is a great time, when every day is Groundhog day and I wanted to do something else. That's why I started to translate and I was looking for publishers.
I graduated from three classes of music school, which gave nothing but general development. While I was in the decree, I was searching for information about stringed instruments, about restoration. It was for my husband. Since there was practically nothing in Russian on this subject, I searched in English. So I met with Dr. James Westbrook, the author of the book "The   Century   That Shaped The Guitar" which was published in 1995 in the UK. We talked with him a little. At that time I had a rolling text ready, which showed the general content of the book, and I thought about finding a publishing house.
How did you choose the publishing house?
It was practically a detective, because at that time I did not know anyone in the sphere of culture. I looked at the bookstore, whose books I like, chose about 30 publishers, found their coordinates, and wrote letters to all. The answer I received from three of them, I managed to meet with two, and I published a book with one of them. This is the first and so far the only book in Russian about the history of classical guitar in Russia and Europe in the XIX century. The book was published by the absolutely stunning publishing house "Classics of the XXI century". The book received extremely enthusiastic reviews from both professionals and connoisseurs of the instrument.
It caught me. On the one hand, I understood that there was no such thing in Russia and it was a good aid for everyone who studied guitar at children's music schools and at other special schools. On the other hand, the history of classical guitar in our country is a separate story. All over the world guitar is an academic instrument, but only in Russia the classical guitar is in the class of folk instruments.
In addition to getting some managerial experience, I am very grateful that circumstances have pushed me against classical music. And I will continue to do projects. It so happened that now these projects come to me on their own.
Please tell us about several musical projects you have implemented.
After the presentation of the book I started organizing the "The   Century   That Shaped The Guitar" in the Rachmaninov Hall of the Moscow Conservatory. At the concert old guitars were playing, including the unique instrument "Stradivari Guitar", made in 1864 by Antonio de Torres, the ancestor of the classical guitar. I brought the guitar for the concert from the UK, and it sounded from the stage.
Since 2015 I have a good relationship with the legendary firm "Melody" and cooperate with the largest Russian festival of classical guitar - Moscow International Festival "Guitar Virtuosos". This festival has been held annually for more than 10 years in March in Tchaikovsky Concert and it is one of the five largest festivals in the world.
In December 2015, together with Artyom Dervoyed, we launched chamber music evenings. They first were at the cafe "Scenario", on Tverskaya Street, but now we are changing the place. This is a completely different idea, which, in my opinion, is absolutely contrary to the idea of ​​the festival. The main idea of ​​such evenings is that people come, listen to music of the highest level and professionalism, join in the chamber atmosphere and live sound, and after all they stay to talk. Laureates of international competitions Boris Adrianov (cello), Dmitry Illarionov (guitar), Valentin Uryupin (clarinet) Sergei Pospelov (violin), Veronika Kozhuharova (saxophone), Yevgeny Finkelshtein (guitar) and many others have already appeared in the project.
Being a manager and a professional HR by education, you have started projects related to the world of classical music. Was not it scary?
I faced a situation when everybody said "You will not succeed" and this helped to achieve some results. Honestly the atmosphere in which I studied, the people with whom I studied, the very environment in which we were – all this made it possible to do things and not be afraid.
And are you in touch with HSE now?
Oh sure. I keep in touch with groupmates, not so long ago we met on the occasion of the 20th anniversary of our acquaintance, because we began to study in September 1996.
We thank Elena for the interview and wish her success in any professional activities!