Campus of the HSE Graduate School of Business
Shabolovka
The main campus
Trifonovsky
Technology hub for further education
Maliy Gnezdnikovsky
Centre for executive development programmes
Shabolovka Administrative and Training Complex
16,261 m²

total area

6

academic buildings

27

classrooms

2

co-working spaces for 100 people each

8

computer rooms

1

Jalinga video studio
The Shabolovka Administrative and Study Complex houses the staff of the HSE Graduate School of Business, its departments, and the training offices of its main educational programmes. Classes for undergraduate, graduate, postgraduate, MBA and DBA students are held here.
7 language classrooms:

5 rooms with 12 seats, 2 with 18 seats for English classes

15 seminar classrooms:

9 rooms with 30 seats, 2 with 48 seats, 2 with 60 seats, 2 with 75 seats

5 lecture rooms:

3 rooms with 90 seats, 2 with 232 seats

1C and X5 Retail Group-branded classrooms

and a joint department with Otkritie Bank

Academic Council Chamber

Meeting rooms
A comfortable learning and working environment:
Copy and print areas in academic buildings
ATMs: Sberbank and VTB
Vending machines and coffee points
Purifiers with hot and cold water
Free internet (Wi-Fi)
Bicycle parking
Cloakrooms
Spaces for self study and group work
Modern ergonomic study furniture
Campus navigation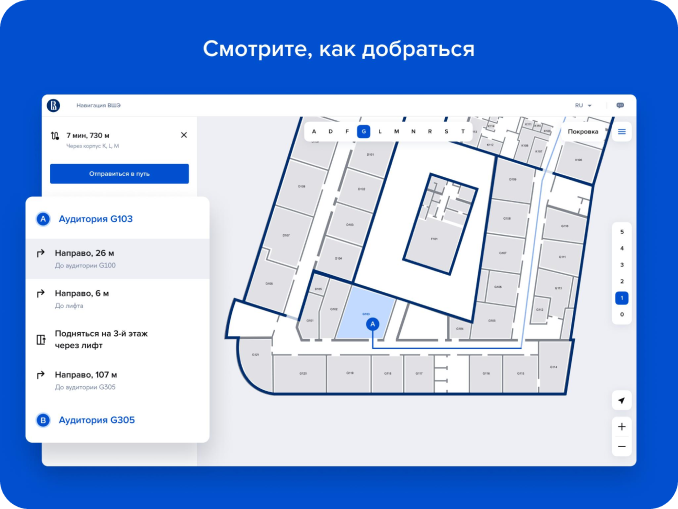 HSE.Navigation

–
a free service to help you
find your way around the university
It can be accessed in two ways:
1. Use the web version at navigation.hse.ru. It is accessible from any device, in any browser.
2. Download the mobile app from the App Store or Google Play.