Ramesh Roshan Das Guru, a senior lecturer from the University of Geneva delivered a course for students in the Marketing and Market Analytics programme
Visiting lecturer Ramesh Roshan Das Guru from the University of Geneva (Geneva, Switzerland) taught a course on R-Language Programming for students of the Marketing and Market Analytics Bachelor's programme in Module 4. The classes were delivered online and consisted of lectures and seminars.
Ramesh Das Guru holds a PhD in quantitative methods in marketing from the University of Geneva and has more than five years of teaching experience in an international environment, specialising in IT and operations management. Ramesh is currently a senior lecturer and research assistant at the University of Geneva, where he teaches courses such as Introduction to Research Methods, Marketing Research and Data-Driven Decision-Making.
Alyona Grosheva, student of the Marketing and Market Analytics programme:
The R programming course was a completely new field of study for me. The main motivation for choosing it was the desire to get acquainted with one more tool for data analysis. Of course, before the course started, the novelty and complexity of the discipline almost scared me off, but almost all my worries turned out to be completely unfounded!
Thanks to highly comprehensible and fairly practice-oriented lectures from Dr. Ramesh Das Guru, students successfully mastered the basics of R Studio, which is the main basis for writing R code.
I can describe this course as interesting, but for me personally, it was extremely challenging. Because of the large amount of information and new material that students had to study on their own, it proved quite difficult to complete a group project. However, Dr. Ramesh Das Guru was always available for consultation, always ready to answer any questions the students had. Thanks to such an effective communication approach and the lecturer's genuine willingness to help the students, many controversial and unclear situations related to the assignments were resolved in a timely manner.
I can recommend the discipline "Programming in R" to those students who have a general idea of data analysis; have taken a course in statistics and successfully mastered it (the "Programming in R" course implies that the student is able to interpret various statistical indicators and models); ready to devote time to independent study of a large number of necessary materials; interested in learning new tools for data analysis and not afraid of programming.
Anastasia Nadezhdina, student of the Marketing and Market Analytics programme:
My feelings after the course were mixed. On the one hand, my classmates and I gained knowledge about the new programming language, on the other hand, it seemed to me that the tasks we were given would be much easier to complete in SPSS. The instructor presented the material in an interesting way in English, all the requirements were clear, and it was great to be able to keep in touch outside class time. If prospective students are interested in learning new programming languages, then this course would suit them. Besides, a big plus is that it is simpler than, for example, Python. However, be prepared that you will have to do a lot of work on your own.
Ramesh Roshan Das Guru commented: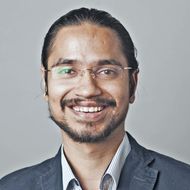 I would like to thank Dr. Rebiazina and Dr. Muravskii for giving me this lovely opportunity to teach the course "Programming in R" at HSE. Teaching and interacting with students from HSE GSB was an interesting experience. What I admired most about the students from HSE was their perseverance and patience in attending three hours of lectures and seminars especially on Saturdays. Students were curious and eager to put efforts into learning R and actively took part in the group project which aimed at giving them a taste of the practical application of R in a marketing research setting.
The challenge I faced while teaching at HSE is trying to keep the teaching interesting and interactive without the essence of the pre-COVID physical classroom setup, which I believe is somewhat a common issue globally across academia. Not being able to connect with such bright and interesting students at a personal level would definitely remain a regret but still, I hope my students enjoyed the "online classroom" interaction and managed to learn amidst all the challenges.
The only advice I will like to give my students interested in exploring the concepts of programming in R or for that matter any other language is to continue developing their computational thinking and honing their problem-solving skills. A good programmer can always break down any complex problem into a small subset of easy-to-understand situations/problems. Once students master this approach of problem-solving, programming in any language becomes comparatively easier.
I would like to add that working with HSE GSB was an absolute pleasure, right from the way the administration helped in all paper works, the support and freedom Dr. Muravskii provided in designing and conducting the course, and of course, finally, the enthusiasm and passion students showed during the class! All these factors made this a worthwhile experience and I continue to look forward to my association with HSE GSB in the future.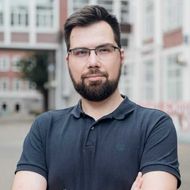 Daniil Muravskii