3 useful tips from Ekaterina Rzheutskaya about the exchange program at BFI Vienna
In her 3rd year of educational programme "Business Informatics" Ekaterina Rzheutskaya took part in the exchange program with the Austrian University of Applied Sciences BFI Vienna and... managed to stay there for a second semester. Ekaterina's advice will be useful to everyone who is going on exchange. The review is a must-read!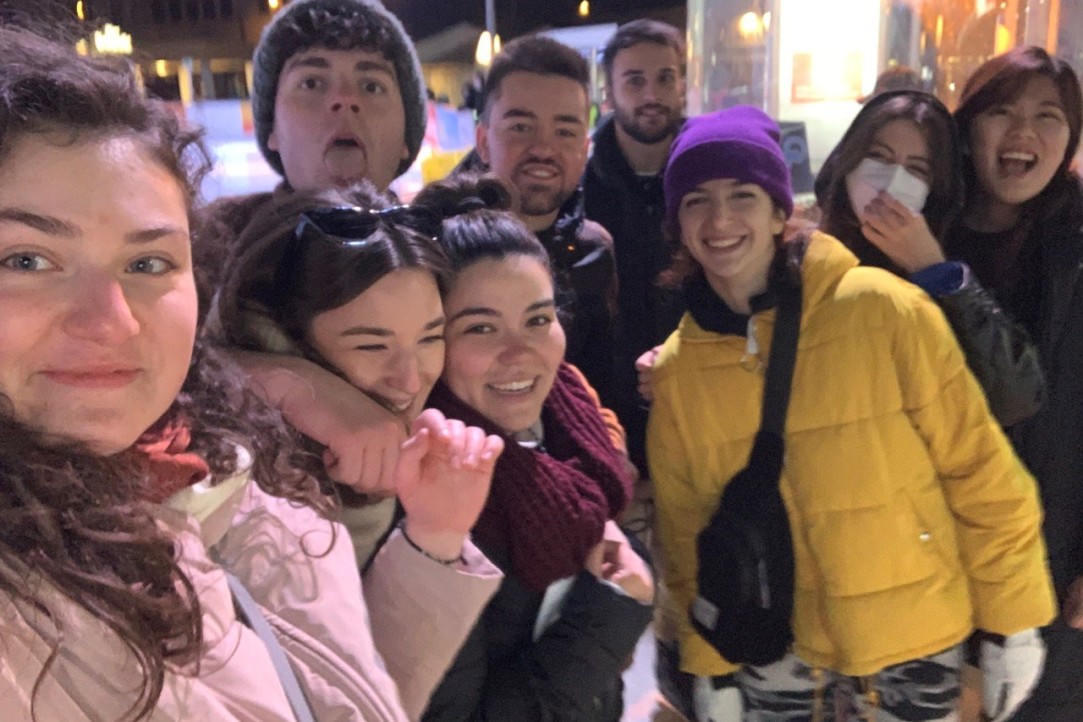 Hi everyone, my name is Ekaterina Rzheutskaya and I am a student in the Business Informatics programme. I spent my second semester of my 3rd year in the exchange programme at the University of Applied Sciences BFI Vienna. It is my pleasure to share the impressions!
The choice of the university and preparation of documents
Frankly speaking, I didn't think too long about it because I once had happened to be in the wonderful city of Vienna and I knew right away that that's where I wanted to go as an exchange student. In Vienna, there were two universities suitable for me, each of which had only one place, but thanks to a fairly high ranking I was able to get to the one I wanted.
Tip: You do not need to be at the top of the rankings to be selected for the mobility programme. Your strategy is much more important. Look at the results of previous selections and pay attention to where the competition for a place is high and where it's lower. If you are not at the top of the ranking, it is better to look at universities where the competition is lower, so your chances to pass will be higher! And the classic - start to collect all the documents in advance.
Search for housing
If you want to have time to book a good place, I recommend you to deal with this issue in advance, as places in the dorms may finish fast. Dormitories are not affiliated with a particular university, and host students from a variety of universities and programs. On average, the prices of dorms start from 250 euros and go up to infinity.
Websites for housing
https://www.akademikerhilfe.at/de
https://www.stuwo.at
https://www.home4students.at
https://www.thestudenthotel.com/vienna/
https://www.studentenwohnen.at/en/locations/gasometer/
https://www.oeadstudenthousing.at/en/
The beginning of mobility
I came to Vienna when the entry rules were still strict: you should either have antibodies or an EU-recognized vaccination. Since I hadn't have coronavirus, I had to fly to Serbia and get vaccinated with Pfaizer before my mobility. Now these requirements have been lifted, but you never know what will happen next. In Vienna, they still wear masks in public transport, but you don't need to show a QR-code in public places like before.
The first week at the university is a welcome week. This week is full of excursions and activities to bring the students together.
Tip: go to all the events this week. First of all, we visited many attractions either for free or at a discount, as the international office of the host university covered the costs. Secondly, it is a great opportunity to get to know fellow exchange students and local folks better. Thirdly, you will learn more about Vienna!
Studying
First of all, it should be noted that in Austria there are two types of universities - Universität and Fachhochschule (FH). And the BFI Vienna is a Fachhochschule. In FH there is no division into lectures and seminars, the emphasis is more on practice. Also, a FH has far fewer students and teaches in small groups. At the same time, class attendance plays an important role: you have to attend 70% of classes in order to pass the course. There are a lot of group presentations, case studies, and various projects. The only disadvantage is the duration of the class - from 3 to 5 hours. The instructor lets short breaks, but, to be honest, it is very hard to stay focused for such a long time.
I have positive impressions from the university. All the teachers are very polite and understanding. Moreover, due to the fact that the university is small, your problem or question can always be considered individually. I thus prolonged my exchange for another semester :) The main thing is don't be afraid to ask questions and inquire!
Tip: use the opportunity to learn German with a native speaker at the university. We had a very small group (5 people) and a great teacher who had time to pay attention to everybody.
Life in Vienna
I think Vienna is an ideal city for starting a life abroad. It is no secret that Vienna has once again been recognized as the most comfortable city to live in the world. And it really is! Convenient public transportation, a sense of security and, of course, incredibly beautiful architecture. If you don't speak German, you will easily be understood in English. As for the Viennese, I can say that they are quite closed people, but if you need help, they will always help you.
The only thing that can damage your mental health is the bureaucracy and the work of the local authorities, but hopefully you will not encounter that :)
Travel
I think everyone knows that one of the perks of living in Europe is the opportunity to travel on a budget. During this semester I managed to visit Slovakia, Hungary, France, Poland and some cities in Austria. Cheap tickets can be found on Ryanair, Flixbus. Be sure to use this opportunity! And when planning your budget, be sure to budget for it. In general, I suggest taking a little more money than you've budgeted.
Conclusion
An exchange semester is a unique opportunity to immerse yourself in another country's culture, make friends with people from different countries, travel, and boost your English. I think the fact that I'm staying for another semester shows that it's a very cool experience. Good luck to everyone in the upcoming exchange program competition!
P.S. If you still have questions, you can ask me on instagram or telegram @kathoraaa. Happy to answer and help!