Julia Dirneder: Semester abroad at HSE GSB
Julia Dirneder is a Master student at the University of Applied Sciences BFI Vienna, Austria, but the previous semester she spent in Moscow on her exchange program at the HSE GSB.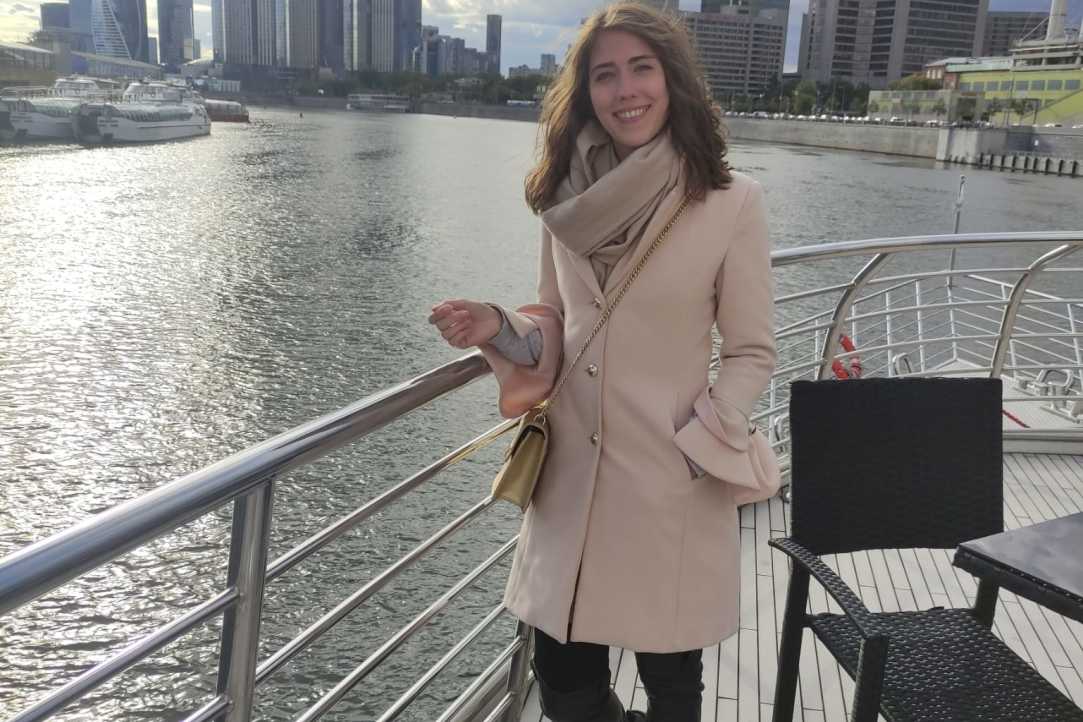 Preparation
I knew even before I started my master's degree that I want to do a semester abroad. However, it was a bit difficult for me to choose the country. I compared the advantages and disadvantages of several countries. To be on the safe side, I applied for 3 universities. In the end, I chose Russia as my first choice because the culture and the country are completely different from what I knew. I wanted a challenge and to see something new. In addition, Russia is much cheaper than other countries in terms of cost of living. Therefore, you can see and experience much more because you don't have to pay so much attention to the financial aspect. I heard from some colleagues who also did their semester at HSE in Moscow that they were very satisfied. The HSE in Moscow has a good international reputation, is very modern and has a high level of education.
The preparations took some time and were a bit stressful. Until two months before departure, it was not possible to enter Russia (because of the COVID situation). When I was allowed to apply for a visa, I was very relieved. The visa application is a bit confusing at first, but in the end, it is not a problem. Some documents have to be prepared, such as: Invitation from the host university (will be sent), form (to be filled out via the website), passport (make sure it is valid for a sufficient period of time), passport photo and travel health insurance (I took out mine via UNIQUA). Afterwards, all documents can be taken to the visa centre or embassy. You have to hand in your passport and will receive your visa within 2 weeks. I have also organised my student accommodation (check mark in the application form), a buddy and my flight in advance.
Life in Moscow
I didn't have to pay any tuition fees and have received the Erasmus + scholarship. My buddy Anya picked me up at the airport and we took the Aeroexpress to the city. She also helped me apply for a sim card and was always there for me if I had any questions. I would recommend a buddy. You will receive information shortly before the start of your semester abroad when you can apply for a buddy.
Due to the reason that I don't speak Russian (except for a few phrases), it was often difficult for me to communicate. After a while, I learned how to communicate. You should not be shy.
If you go to HSE Moscow, I can recommend that you go to the university dormitory! I was very unsure at the beginning and didn't know how the conditions at the dorm are. But now I can say that the student dormitory is absolutely fine. You share a room with a second person. I was in a room with a lovely Dutch girl. My student residence was located directly at VDNKh and was therefore well connected to public transport.
Moscow is a beautiful and impressive city! The metro system is huge, a new metro comes every 30 seconds, and the stations are beautifully designed. I was constantly on the go, doing a lot of sightseeing, trying new places and bars and going out in the evenings. Some places I can recommend: Turandot, OMG Cafe, Jonjoli, I love cake, Uilliams, White rabitt, Aidabaran, Mari Vanna, Patara.
I didn't miss out on travelling either. I was in Sochi in the south when it was still 20 degrees, travelled to Lake Baikal on the Trans-Siberian Railway, visited St. Petersburg, went swimming in the Seliger River and visited a few more cities like Kazan, Nizni Novgorod and Sergiev Posad. I can definitely recommend you to join the planned ESN trips, but also to plan your own trips with other students. Living costs are low. You save a lot of money if you live in a dormitory. Food, public transport, and activities are also cheaper than in Austria. The host university, with Ekaterina as my contact person, was always available and answered my questions quickly. I felt well looked after and supported.
Overall experience
Don't be afraid to go to Russia, it's a great country with an exciting culture and interesting people. Moscow is impressive and has beautiful architecture. Get to know the people, do some sightseeing and make the most of your semester abroad. Not everyone has the chance to do this.