First Project Fest by GSB Student Festival
Are you interested in student projects that currently exist at the Graduate School of Business, or do you just want to spend a fun and rewarding Saturday afternoon?
Perhaps you are already planning to implement your project and receive support from the GSB?

Then we look forward to welcoming you on June 5 to Project Fest by GSB - the first student open-air festival for those who want to get the most out of student life at GSB, receive a charge of vivid emotions and develop their professional skills.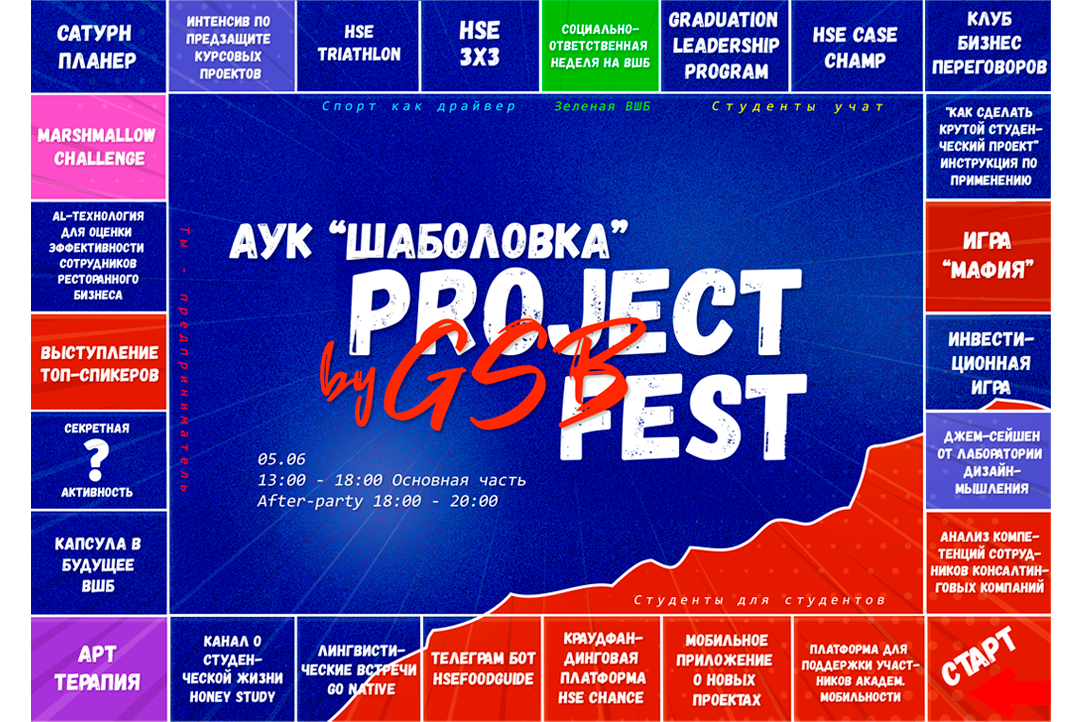 The event will feature top speakers, master classes, business games, sports competitions and much more. You will also learn more about the most successful projects supported by GSB, meet their leaders and teams, who will present their projects and share their experience and knowledge.
The event ends with a fun and noisy Afterparty with a guest DJ! 
The conceptual basis of the Festival is an economic monopoly game.
All participants of the Festival will become investors whose task will be to correctly distribute their start-up capital among the projects. There will be no losers, but the projects that earned the most investments and the most active participants will receive valuable prizes from GSB and the festival partners.
The festival will take place on June 5 from 1 PM to 8 PM!
Preliminary programme:
1 PM - 5:30 PM – Project platforms, master classes, case-battles, performance of guest speakers;
5:30 PM - 6 PM – Closing ceremony, awards ceremony;
6 PM - 8 PM – Afterparty.