Quality Control and Internal Regulations
Curriculum Coordinator and Project Lead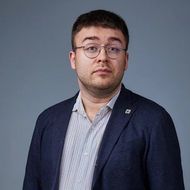 Tasks
To provide methodological support for:
the development and revision of programmes curricula and course syllabi;
the writing of plans-proposals and load distributions;
the organization of practical training and project-based learning activities;
the development of guidelines;
launching of joint educational projects and online programs.
Methodological support, development and oversight for the correctness and approval of course syllabi (PUD).
The answers to frequently asked questions on methodological support of instructors can be found on the page of the Navigator booklet for course instructors of the Graduate School of Business.
Below are the links to some key methodological materials regarding the organization of the educational process at the Graduate School of Business
PRACTICAL TRAINING AT THE GRADUATE SCHOOL OF BUSINESS
REGULATIONS on the COMMISSION of THE GRADUATE SCHOOL of BUSINESS of THE NATIONAL RESEARCH UNIVERSITY "GRADUATE SCHOOL of ECONOMICS" on the acceptance of the results of teaching services under civil contracts with individuals
Have you spotted a typo?
Highlight it, click Ctrl+Enter and send us a message. Thank you for your help!
To be used only for spelling or punctuation mistakes.